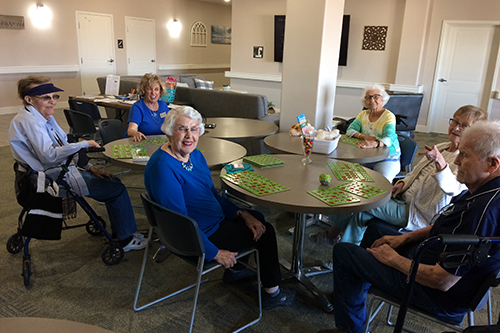 Stay for the Day
Adult Day Services is a specialized program serving those affected by Alzheimer's disease, or other forms of dementia, who benefit from regularly interacting and engaging with other similarly affected individuals. Family caregivers often express feelings of guilt or of "giving up" on a loved one when they no longer can or want to care for their loved one entirely on their own. At The Haven we see it differently—you're not giving up, you're asking for a hand; it just so happens that helping hand belongs to specially trained, experienced and knowledgeable professionals. Together as a team we can provide the best outcomes for your loved one, with the needed interactions and feelings of belonging, while you take care of yourself and your other responsibilities – whether that's a work trip, running errands or enjoying a personal day of relaxation.
Adult Day Services clients enjoy most of the same services and amenities as our residents:
Hourly, half and full day rates (hours and pricing vary per location)
24-hour staffing and on-call nurse coverage
Care from staff members with specific training in Alzheimer's disease, dementia and memory care
Nutritious, home-cooked meal(s) & snacks
Individualized and group life enrichment activities
Medication assistance & assistance with other activities of daily living
Providing Familiarity and Creating Purpose
Life Stations are hands-on and dynamic; they are meant to spark our residents' old memories and create activities that encourage interest, movement and interaction. These stations are helpful in the retention of memories from years past and create moments of joy. Activities such as gardening, working with tools, desk work or folding laundry help those with Alzheimer's disease and dementia revisit and retain memories in a comforting way, while providing a sense of purpose through familiar activities. Usually those who engage in Life Stations are less likely to wander, have reduced levels of stress and anxiety, and exhibit a calmer demeanor. Ask our staff for ideas on how to create your own Life Stations at home!
Want to learn more about our Adult Daycare.
Give us a call and we will answer all your questions!